While sitting around trying to recuperate from this KILLER cold, I have found some blogs that I have fallen in love with. They pretty much put a name and much more organized picture of what I have been doing with the kids. So I am going to link up and join "Tot school" and use some of the BRILLIANT ideas these women have posted! Check out
Carissas blog
to see more. From there you can link up with some other fantastic blogs, like
Totally Tots
and
homeschool creations
as well as one of my favorites
Delightful Learning
. Theres a lot more that you can find and get lost in.
We have been out of printer ink so I haven't been able to print out some things that will allow me to use a theme and lessons. Therefore today we just did some fun random things and will try a unit next week. So here was today's random Tator Tot School at our place.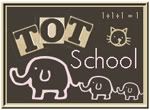 We made a homemade skeeball game for girlie spud. This gave me the chance to give her several directions at once, "Pick up the green ball, take three steps back and put it into the number 2 hole."
This morning we did some tissue paper painting. We used some leftover tissue paper we had gotten in some birthday and Christmas gifts. Then we got a sponge wet and painted the peices onto the paper. Little spuds Man needed more help holding the pieces down while he sponged it. Girlie was able to figure it out pretty quickly.
We also have been collecting some bottles, caps, buttons, egg cartons ect from family and this morning we used a Nesquick bottle to play a sorting/stuffing game. It was mainly for Spuds Man but Big girl felt the need to help. He had a blast! He became a bit frustrated at first when things were too big but after a while would throw them to the wayside and find more to stuff in. By far his favorite part was dumping out everything once he was satisfied with its fullness and starting again. What a boy.
The buttons you see are from girlie and a random triangle that appeared. She spotted it and excitedly exclaimed "Mom! Its a button triangle!" I was proud of her shape recognition and so we worked on doing some more. I wanted to get to a rectangle and oval or diamond but she got distracted by some math blocks Grandma got them for Christmas.